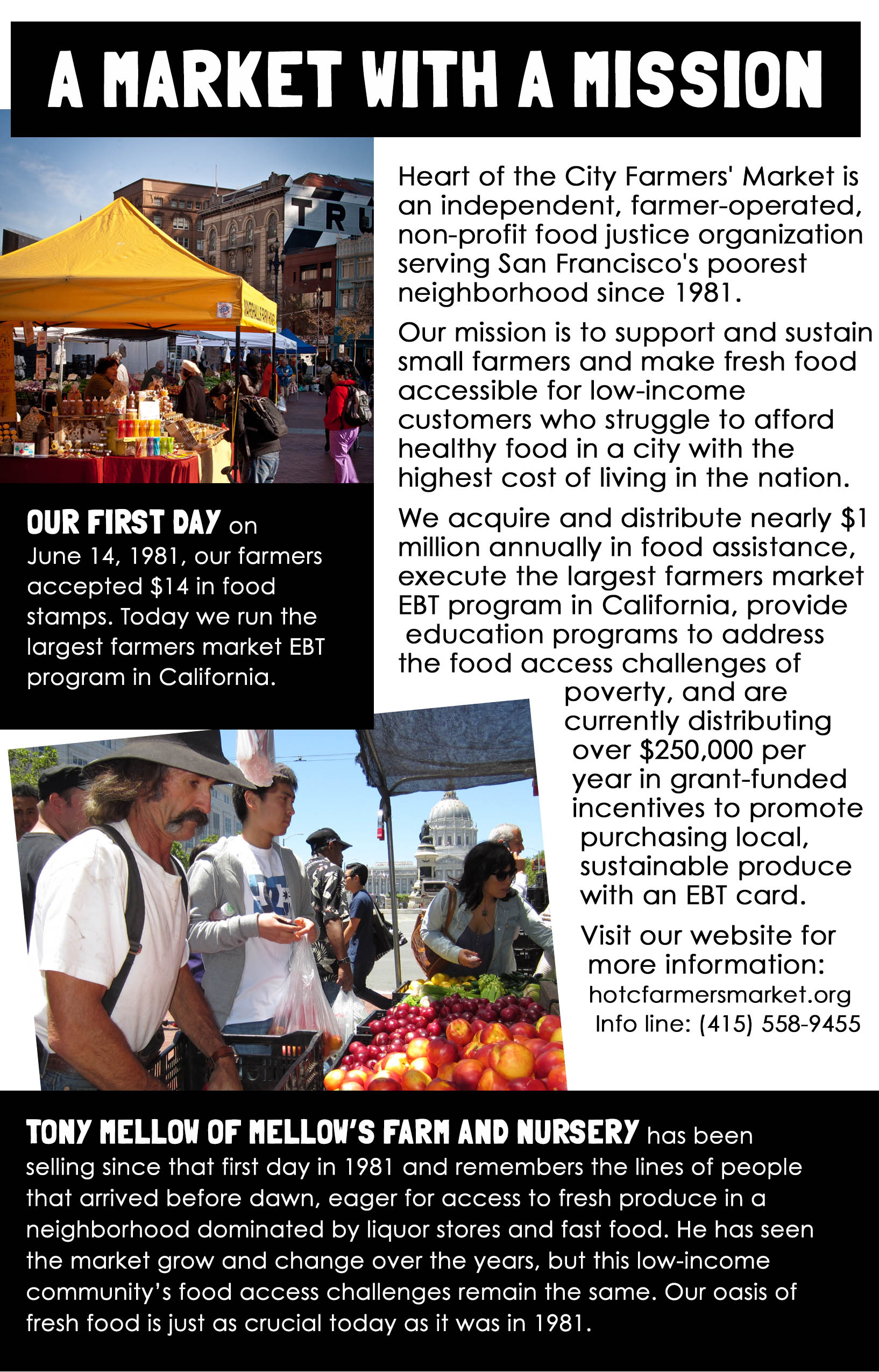 WHO WE ARE

Heart of the City Farmers Market is a uniquely independent, farmer-operated, nonprofit farmers market located year round on Sundays, Wednesdays, and now Fridays in San Francisco's United Nations Plaza. An iconic and beloved community resource, the market opened in 1981 with a mission to support and sustain small farmers and make fresh food accessible for low-income customers who struggle to afford adequate nutrition in a city with the highest cost of living in the nation.
We distribute over $1.5 million annually in food assistance at our information tent, provide education programs for people facing the nutritional challenges of poverty, manage distribution and redemption for the largest farmers market EBT program in California, and make over $500,000 per year in grant-funded incentives available to help low-income families purchase fruits and vegetables from local farms.
We are an independent non-profit 501c4 organization that is operated by its member farmers. We are fondly known for our diversity and grassroots, family-like cooperative structure. Since the market's first day 1981, our farmers have been committed to helping to create a healthy Heart of the City.
Over 20,000 customers a day rely on our 55 farmers to bring freshly-picked and reasonably-priced produce from local farms to a fresh food desert that lacks an affordable grocery store. Open year round, rain or shine, including holidays, our market is a popular shopping destination for low-income customers due to a convenient and accessible location above the busy Civic Center BART and MUNI stations, unusually long 10-hour farmers market days, and diverse farmers that have grown their operations over decades to meet the needs of a low-income neighborhood. Known as the most affordable farmers market in San Francisco, HOCFM attracts low-income customers from all over the City who spend more than $1 million each year at HOCFM using Healthy Food Purchasing Supplements and CalFresh. Over 70% of CalFresh benefits spent at San Francisco's more than 30 farmers markets are spent at HOCFM. Since 2015, HOCFM's Market Match program has distributed over $1,035,977 in incentives to CalFresh customers to drive produce purchases with an EBT card to support local agriculture.
A VIRTUAL TOUR
About Market Days
Heart of the City Farmers Market is located in the heart of San Francisco at the United Nations Plaza along Market Street between 7th and 8th Streets. Click here for a map. Our hours are:
Sundays 7am to 5pm - Open year round, rain or shine.
Wednesdays 7am to 5:30pm - Open year round, rain or shine.
AND NOW! Fridays 7am to 4pm - Open year round, rain or shine.
Because of our unusually long market hours, some farmers sell out before the close of market. Come before 3pm for the best selection but many find the best prices later in the day.
WE RARELY CLOSE. We will only be closed on the following holidays:
Pride Parade Friday and Sunday, the last weekend in June
Christmas Day (and the Friday following)
New Years Day
Our market is run by its farmers and produce doesn't ripen on a schedule, so you can count on us to be open every other day of the year including holidays.
Interested in selling with us? Visit our Questions page for instructions.
No Cash? No Problem.
Credit Cards are accepted at our market information tent. Use your credit card to purchase green $1 market tokens which you can use to shop with our vendors on any market day. There are no purchase restrictions for our green credit card tokens, they never expire, and you receive change when you use them.
We Accept EBT, EATSF, WIC, and VeggieRX VOUCHERS
Heart of the City has been a leader in serving vulnerable communities by accepting alternate forms of currency to facilitate food assistance programs that increase fruit and vegetable consumption, including EBT, EatSF, WIC (including Fruit and Vegetable checks), Senior Farmers Market Nutrition Program coupons, and VeggieRX coupons in partnership with Fresh Approach. We take pride in the fact that we were one of the first markets in California to accept food stamps electronically and we have trained other market managers throughout the state to provide this critical service to communities in need. Over $1.5 million in food assistance is distributed at our information tent every year! We are the largest farmers market EBT program in California.
WIC Farmers Market Vouchers, WIC Fruit and Vegetable Checks, Senior Farmers Market Nutrition Program Vouchers, and VeggieRX Vouchers can be used directly with our farmers at their stalls.
EBT Cards can be used at the market information tent during market hours to purchase tokens. Customers receive $1 yellow EBT tokens to buy produce and packaged food items at vendors' stalls. No hot food or non-edible items like flowers may be purchased with EBT tokens. The tokens never expire and can be used at any future market day.
EatSF (Vouchers 4 Veggies) Vouchers can be used at the market information tent during market hours to purchase tokens. Customers receive 5 $1 red tokens per voucher to buy produce at vendors' stalls. Only fruit and vegetables may be purchased with red tokens. The tokens never expire and can be used at any future market day.
MARKET MATCH DOUbLES PRODUCE PURCHASES
Our Market Match program in partnership with Ecology Center doubles the spending power of CalFresh customers by matching EBT purchases dollar-for-dollar up to $5 every market day all year. Customers can access up to $750 a year if they shop every market day. Funding is provided by the California Nutrition Incentive Program and Gus Schumacher Nutrition Incentive Program (formerly FINI) as well as Kaiser Permanente. Visit our market information tent to participate.
Our Non-Profit Organization and Mission
The farmers who run Heart of the City Farmers' Market strive to bring high-quality, fresh, and reasonably-priced food from local small farms to the heart of San Francisco's poorest urban neighborhoods, as well as to support sustainable, small-scale agriculture efforts.
Heart of the City Farmers Market is an independent, 501c4 non-profit California Certified Farmers Market governed by a community board known as The Heart of the City Farmers Market Community Advisory Board. This board is comprised of five farmers elected as representatives by our farmer participants and two community representatives elected by our farmer board members to help us connect to and meet the needs of our neighborhood.
We are working to create a healthy neighborhood through our "Healthy Heart of the City" campaign that includes nutrition education outreach with local supportive affordable housing communities, schools, and after-school programs, over 1,000 pounds of produce donated each week to our most needy neighbors, and partnerships with local health organizations to make health resources available during market days. We strive to help low-income residents to eat healthy on a budget and nearly 70% of EBT benefits (food stamps) used at San Francisco farmers markets are used here.
OUR PARTNERSHIPS
Our busy HOCFM information tent promotes HOCFM's food assistance programs in six languages and our established network of over 50 social service provider partners help us promote the program to San Francisco residents most at risk of food insecurity. Partners include health organizations with large networks, supportive affordable housing communities serving among others formerly-homeless individuals and low-income seniors struggling to age in place, senior centers, cultural organizations, and nutrition education and cooking programs serving low-income participants. Community partners include San Francisco Department of Public Health Feeling Good Project, SFDPH HIV Program, San Francisco General Hospital's Vouchers 4 Veggies Program, San Francisco Public Library Biblio Bistro Program, Samuel Merritt University Nursing Program, San Francisco Human Services Agency, TNDC, Community Housing Partnership, Curry Senior Center, Leah's Pantry, and many others. Relationships created with social service providers, flier distribution, workshops in partnership with our network, and cross-cultural competency efforts have helped to grow EBT sales at HOCFM by 500% since 2009. HOCFM provides an EBT Enrollment Site at the HOCFM information tent three days a week with application assistance in four languages to target SSI recipients to link them with CalFresh and HOCFM's Market Match program thanks to a generous grant from Stupski Foundation. We are also grateful to partner with the Mayor's Office of Economic and Workforce Development through the Civic Center Commons Initiative and the Civic Center Community Benefit District to activate the United Nations Plaza on Fridays.
Market Tours and Education
We love teaching about how we do things here at Heart of the City and are proud that our unique market model makes it possible to support our farm families while connecting low-income San Francisco residents to a supportive network of food assistance programs. If you want to learn more about how we operate, stop by the market information tent to chat with our small staff team or contact us at kate@hotcfarmersmarket.org to schedule a tour for your organization.
Our Healthy Heart of the City nutrition education outreach program has been a driving force for promoting healthy eating in our community, a low-income food desert with a high rate of preventable, diet-related disease. We provide nutrition education for low-income residents in neighboring supportive housing buildings through onsite cooking classes featuring fruits and vegetables, increase awareness that food assistance benefits may be used to purchase local produce, and promote strategies for incorporating fresh produce into healthy diets on a limited budget. Contact us at kate@hotcfarmersmarket.org to receive nutrition education materials, a PowerPoint presentation Virtual Tour, or to schedule a workshop or market tour.